E-liquid with satisfaction guarantee
Since 2011, we have supplied over 150 specialty shops in Europe with happy liquid and ensure lasting and intense customer loyalty.
With every order, you will receive our products at pharmaceutical standards. Whether it's the flavor or the ingredients, our consistently high quality makes for convinced and satisfied customers.
You won't be alone: The support from our sales team, training sessions as well as regular information about e-liquids and e-cigarettes round out our portfolio and strengthen you as a partner at our side.
Of course, we are happy to offer you our products at special commercial terms and we also try to fulfill individual product requests.
Get in touch with us!
Our product
We want to convince you and your customers through a high-end product and additional benefits: with our participation in the DIN Committee and the accumulated knowledge of our research, we are able to offer tomorrow's product, today.
We offer our tested ingredients and special flavors at pharmaceutical quality in tested PET bottles, with smudge-proof PE labels, scannable EAN codes (simple addition into every merchandise management system) and our online manufacturing records. Furthermore, the batch number, expiration date and child safety features are standard.
We set standards: In 2012, we were the first company in the world to request a TÜV analysis and toxicological report. Along with our experiments on human lung cells and the Ames test, we demonstrated that our happy liquids have absolutely no negative effect on the human body.
You want to become a dealer?
You want to sell happy liquid?
Simply register with us, we would be happy to provide consultation.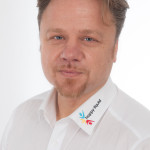 Ralf Steffan
Your partner for happy liquid in the area "B2B"
Our product range, ready for you every day.
Your e Liquid of tomorrow
We offer you a premium product that meets the requirements of TPD2. In addition to the unique taste, quality and full product transparency, happy liquid offers you the following advantages as a retailer:
General:
Small minimum order requirements
Fast, secure and tracked delivery via UPS
Attractive dealer margins
Online production log and batch numbers
Scannable EAN code for your merchandise management system
A high-quality, established product, 100% "Made in Germany"
USP grade Ingredients from Germany
Large variety of tastes
Research / reports / certificates:
USP / DAB / EP quality
TÜV analysis (liquid / gas)
Independent toxicological assessment of TÜV analysis
Bottle certificate (no plasticizers)
Cell biological certificate
Cell biological long-term exposure
Ames test
Certified flavorings
Additional features for offline retailers:
Bonus card system
Advertising subsidy
Free advertising materials
Nationwide sales service
Consultation and product training
Conception and coordination of individual advertising measures
Listing on our website