Quality you can taste.
When it comes to ingredients, we pay attention to quality. We only use substances that meet the high standards of and are tested according to pharmacopoeia (DAB, Ph. Eur. or USP). This guarantees a consistently high quality for each product, always. Our customers can view the relevant certificate of analyses for all ingredients.
Certified ingredients – Made in Germany
At happy liquid we source every ingredient in Germany and test them for purity and suitability before use. We only use the ingredient in the e-liquid after it passes our test. As a result, we can always guarantee the best quality, the best taste and the greatest vaping pleasure.
For us, "Made in Germany" means that each step, from the development, production, filling, to shipping, takes place here in Germany. As a result, we can offer the highest possible standard to our customers and our employees.
Awards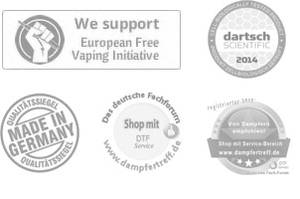 TÜV analysis with toxicology report
We set a high standard with our analysis by TÜV Nord in 2012. The analysis not only tested the e-liquid in fluid form, but also in vapor form, as it is when people consume it. We also went a step further and had the University of Graz independently review the results of the TÜV Nord analysis.
In brief
Study of liquid and gaseous states
Passed analysis by TÜV Nord
Positive report from Prof. Dr. Bernd Mayer
Certificates
Here you can take a look at examples of certificates for our ingredients.
If you require the most up-to-date certificates, please get in touch with us using our contact form.
Have Questions?
Service telephone:
Mon-Fri (workdays)
from 09:30 am – 11:30 am
and 1:00 pm – 5:00 pm